DIO96-104
High-Density Digital I/O Module for PC/104 Bus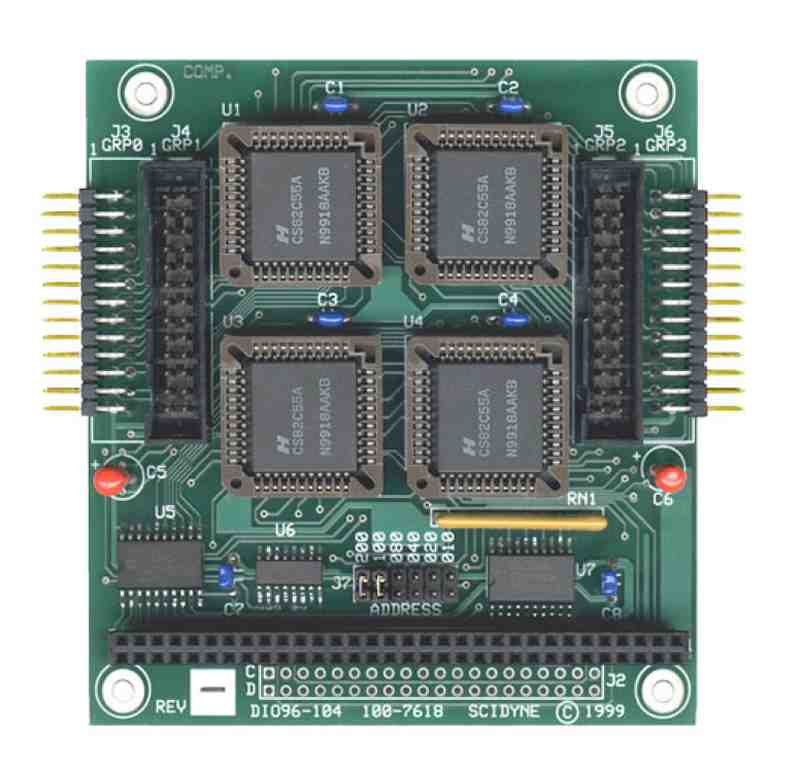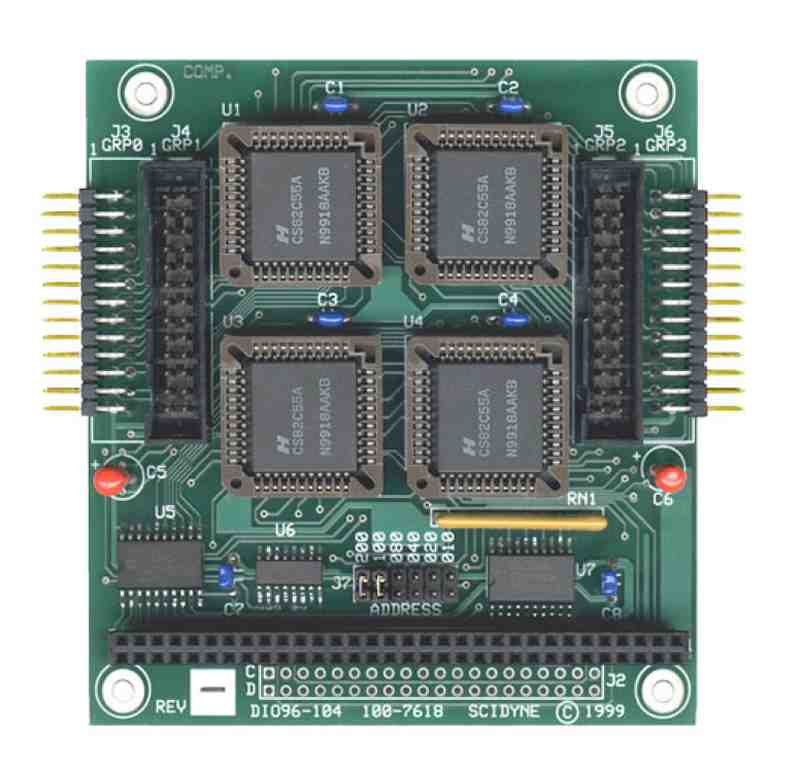 DESCRIPTION
The DIO96-104 is an 8-bit PC/104 peripheral providing 96 TTL/CMOS compatible digital Input/Output channels. It conforms to the PC/104 standard and operates on a single +5V power supply.
The channels are organized as four 24-bit groups. Each group is controlled by a separate 82C55A peripheral interface chip which further segments its 24 channels into three 8-bit ports. This industry standard device offers very flexible configuration including software programmable port directions and strobed handshaking.
Groups are routed to corresponding 26-position I/O headers for all external wiring. Connections to the hosts +5V and GND are also available for convenient powering of external circuitry.
During system reset all channels default to a high impedance input state. Pull-up and pull-down resistors are absent allowing the user's circuitry to dictate how each channel will be handled during reset and input modes.
The DIO96-104 occupies 16 consecutive byte locations within the hosts I/O space. The starting address is jumper selectable between 0x000 through 0x3f0.
FEATURES
96 digital Input/Output channels
Uses industry standard 82C55A chips
Supports input, output and strobed operations
Low-Power CMOS Design
Single +5 Volt Power Requirement
DOCUMENTATION
SPECIFICATIONS
Digital I/O
General:
96 non-isolated digital I/O channels arranged as four 24-bit groups with each group consisting of three 8-bit ports. Each group is controlled by a separate 82C55A peripheral interface chip and supports operating modes 0, 1, and 2. Interrupts are not supported.
Input Level:
Low: -0.5Vdc minimum, 0.8Vdc maximum
High: 2.0Vdc minimum, 5.5Vdc maximum
Output Level:
Low: 0.0Vdc minimum, 0.4Vdc maximum
High: 3.0Vdc minimum, Vcc - 0.4Vdc maximum
Current: ±2.5mA maximum per channel
Miscellaneous
I/O Connections:
Four 26-Position IDC type headers, one I/O group per header includes access to Hosts +5V and GND
Addressing:
8-bit PC/104 bus. Occupies any consecutive 16-byte block in host's I/O map, jumper selectable between 0x000 through 0x3f0
Power Requirement:
+5Vdc ±10% @ 7mA typical, external circuitry excluded
Dimensions:
PC/104 compliant, 3.550"W x 3.775"L 8-bit stack-through, 16-bit stack-through compatible with optional J2/P2 connector
Environmental:
Operating temperature: 0°C to 70°C Standard. Extended temperature version available
Non-condensing relative humidity: 5% to 95%
Product Origin:
Designed, Engineered, and Assembled in U.S.A. by SCIDYNE Corporation using domestic and foreign components.
You may also be interested in these products