RELAYIO-104
Relay Output / Isolated Input Module for PC/104 Bus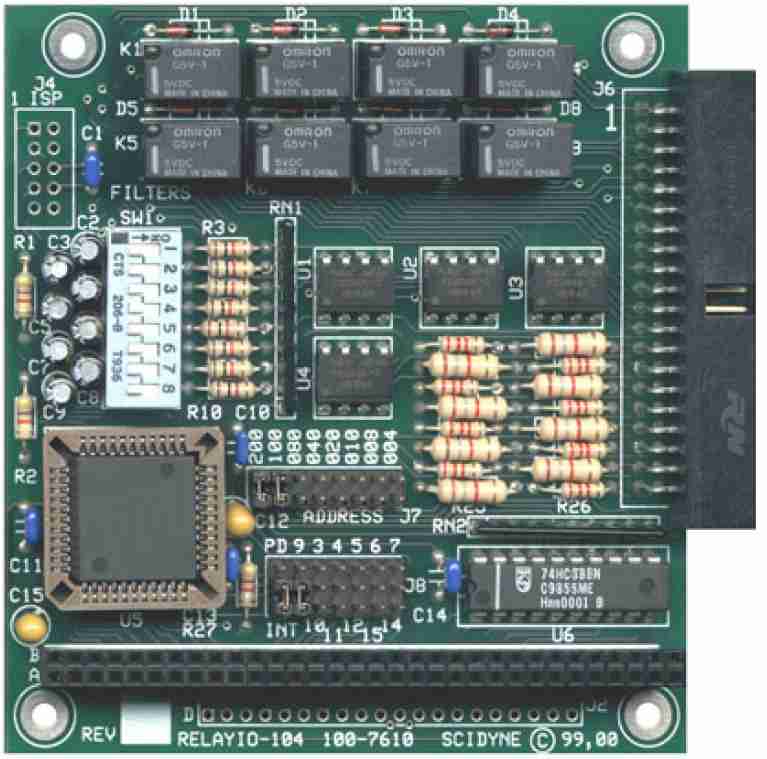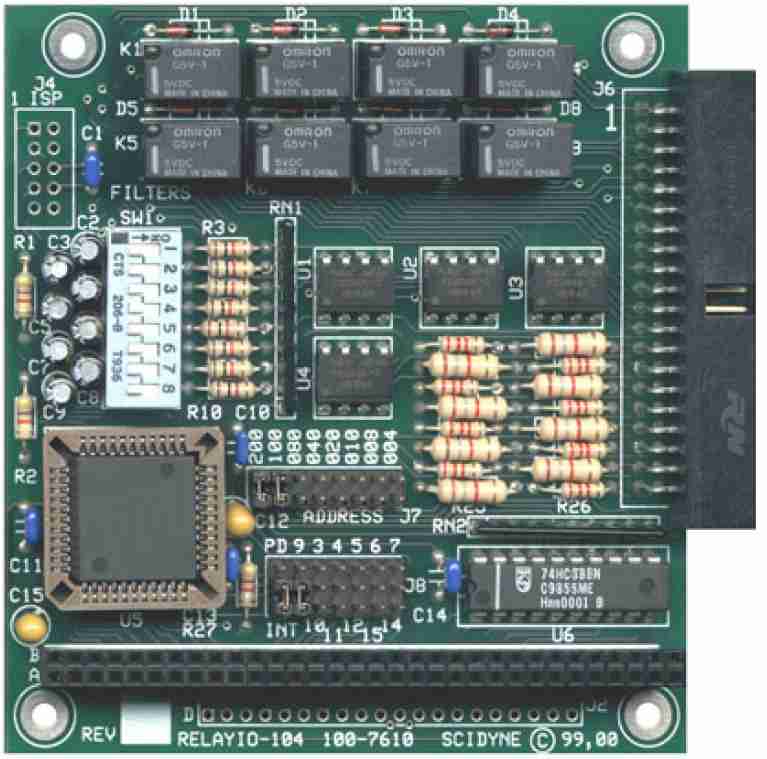 DESCRIPTION
The RELAYIO-104 is an 8-bit digital I/O peripheral module offering electrical isolation between the host and externally connected devices. It conforms to the PC/104 standard and operates on a single +5V power supply. A 40-pin IDC ribbon connector is used for all external wiring.
Relay Outputs
Eight SPDT (form C) relays are used for the digital outputs. Independent access to each relay's Normally-Closed, Normally-Open and Common terminals eases wiring constraints and permits flexible mixing of AC and DC signals. Each output is capable of controlling loads up to 1A @ 24Vdc or 0.5A @ 125VRMS. They also feature Break-Before-Make operation.
An 8-bit output register controls the state of the eight relays. By default, all relays are in a de-activated ( Normally-Closed ) state during power-off and system reset. A relay is activated by writing a "1" to its corresponding bit within the output register. Writing a bit as "0" de-activates the corresponding relay. The register is both readable and writable facilitating efficient Read-Modify-Write bit manipulations software techniques to be used.
Optically Isolated Digital Inputs
Eight separate inputs using non-polarized optical isolators allow any combination of DC or AC signals to be monitored. Their wide input voltage range (3-24V) is suitable for a diverse range of applications. Each input has an associated low-pass filter that can be individually enabled for the reliable measurement of AC signals. The filter is especially helpful when monitoring noisy DC signals.
The on/off states of the inputs are held in an 8-bit read-only register. An activated input appears as a "1" in its corresponding bit position.
Digital Input #0 has the added capability of optionally generating a host interrupt the moment it becomes activated. The event is latched in an interrupt status register so that even a short duration event will not go unrecognized. Applications which do not need full interrupt capability can still use this function by simply polling the interrupt status register.
FEATURES
Eight SPDT (form C) relay outputs
Eight optically isolated AC/DC digital inputs
All inputs and outputs are electrically isolated from each other
Individual input filters for reliable sensing of AC and noisy DC signals
Interrupt feature catches momentary input events
250V isolation between PC/104 bus and I/O signals
DOCUMENTATION
SPECIFICATIONS
General
I/O Connections:
40 Position IDC type header
Isolation:
All I/O: 250V DC or AC, board-to-field. Isolation between I/O signals: 100V maximum
Addressing:
8-bit PC/104 bus. Occupies any consecutive 4-byte block in host's I/O map, 0x00016 through 0x3fc16
Power Requirement:
+5Vdc ±5% @ 80mA typical. Additional 30ma required for each activated relay
Dimensions:
PC/104 compliant, 3.55"W x 3.775"L. 8-bit stack-through, optional 16-bit stack-through
Environmental:
Operating temperature: -20°C to 70°C
Non-condensing relative humidity: 5% to 95%
Compliance:
Contains lead / RoHS compliant by exception
Product Origin:
Designed, Engineered, and Assembled in U.S.A. by SCIDYNE Corporation using domestic and foreign components.
Relay Outputs
General:
Eight SPDT (Form C) sealed electromechanical relays, Break-Before-Make operation
Power Handling:
DC: 1 Ampere @ 30Vdc maximum
AC: 0.5 Ampere @ 125VRMS maximum (resistive load)
Switching Capacity:
1ma, 5Vdc minimum, 62.50 VA, 30W maximum
Contact Resistance:
100mΩ maximum, Ag (Au clad) contacts
Operate Time:
5ms maximum (activate or release)
Service Life:
5 x 106 operations minimum
Digital Inputs
General:
Eight independent non-polarized optically isolated inputs
Input Voltages:
DC: 3V minimum, 24V maximum, non-polarized
AC: 3VPP minimum, 24VPP maximum, 40hz to 1khz
Switching Time:
Typical @ 5V, Filter Disabled: On: 40μs Off: 100μs
Filter Enabled: On: 20ms Off: 85ms
Input Impedance:
1.8kΩ minimum
AC Input Filter:
RC type low-pass. Selectable on a per input basis
Interrupt:
One interrupt, Jumper selectable IRQ 3,4,5,6,7 9 (10,11,12,14,15)* or Disable. Fully supports sharing. Associated with digital input #0 activation, positive edge sensitive. * Optional 20-Position J2/P2 stack-through connector required for upper IRQs.
You may also be interested in these products