P8-16
16-Bit Upgrade for PROTO-8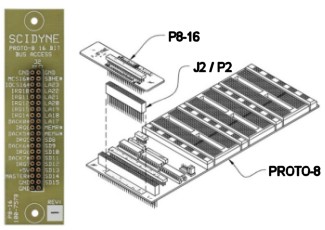 DESCRIPTION
The P8-16 is a companion product for our PROTO-8 PC/104 prototyping breadboard. The adapter upgrades an 8-bit PROTO-8 to full 16-bit capability. This allows users to rapidly evaluate and develop more advanced PC/104 designs.
The P8-16 simply plugs into the optional* J2/P2 connector of the PROTO-8. All J2/P2 bus signals are routed directly to a socket strip which accepts 20-28AWG solid wire or component leads. Each signal is clearly identified, making bread boarding quick and straightforward.
The original functionality of the PROTO-8 is maintained while at the same time providing a clear path to higher performance 16-bit development. The P8-16 may be freely removed and re-installed as the user alternates between 8 and 16-bit projects.
NOTE: The J2/P2 connector is required and must be installed if not already present on the PROTO-8. The standard PROTO-8 is not supplied with this connector which must be purchased separately, stock number 104-00012.
FEATURES
Upgrades PROTO-8 for easy 16-bit PC/104 development
All J2/P2 signals are clearly labeled and accessible
Shift between 16-bit and 8-bit PC/104 projects by simply adding or removing the P8-16 as needed
Works with existing PROTO-8 decoding logic and circuitry
No soldering required, connections made by inserting solid wire or component leads into signals on socket strip
DOCUMENTATION
SPECIFICATIONS
Connections:
Solder-less connections are made through a 20 position socket strip. Accepts 20-28AWG solid wire and component leads. All J2/P2 signal designations are clearly printed on the circuit board.
Power Requirement:
None
Dimensions:
1.00"W x 3.55"L
The maximum height of the P8-16 is 0.950" above the PROTO-8 PCB when fully inserted into the J2/P2 connector not including any inserted components or wires.
Environmental:
Operating temperature: -40°C to 85°C
Non-condensing relative humidity: 5% to 95%
You may also be interested in these products