DIO24-ARD
24-Channel Digital I/O Interface for Arduino, Genuino, and Compatibles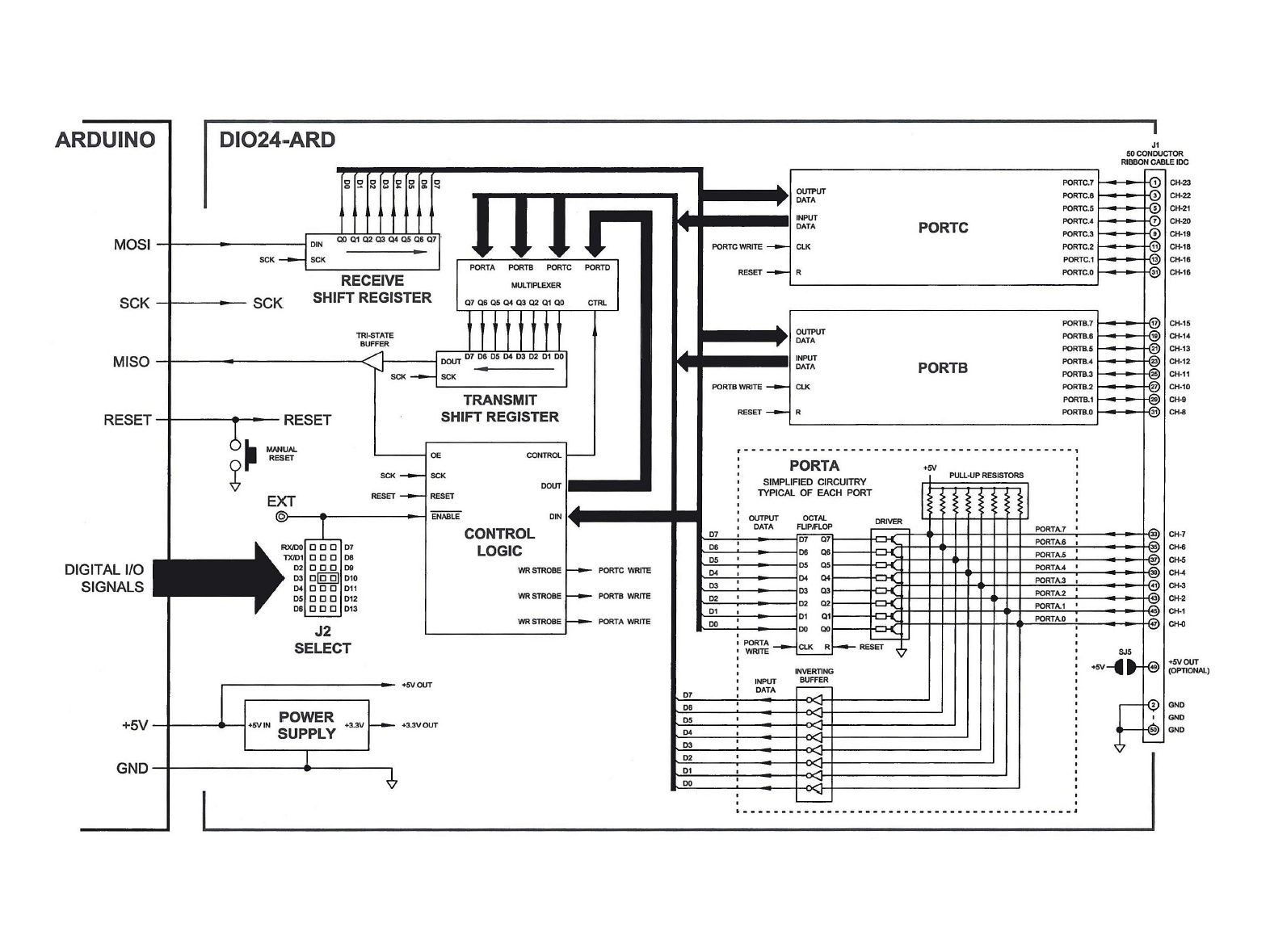 DESCRIPTION
The DIO24 ARD adds 24 digital I/O channels to an Arduino/Genuino UNO, MEGA 2560, or other (+5 Volt) compatible. The specialized circuitry makes it easy to connect Solid-State I/O Racks, Switches, Relays, LEDs, and many other commonly encountered peripheral devices.
Each DIO24-ARD channel can be individually defined through software to operate as either an input or output. Channels configured as outputs are capable of sinking 85ma.
The DIO24-ARD appears as a Serial-Peripheral-Interface (SPI) device and uses standard SPI library functions to control its operation. Only one Arduino digital output is required to act as the dedicated board Enable which means all remaining Arduino digital I/O are available for other purposes.
External devices connect to the DIO24-ARD through a single 50 conductor IDC ribbon cable style connector. The pin-out of this connector is fully compatible with standard 8, 16 and 24 position Solid State I/O module racks available from a variety of third party vendors.
FEATURES
24 Individually programmable digital I/O channels
High output current capability (85ma sink)
Uses standard Arduino SPI software library functions
Jumper selectable Enable signal selection
Stack-Through connectors accommodate multiple shields
Drives industry standard Solid State I/O Module Racks and other peripheral devices
DOCUMENTATION
SPECIFICATIONS
Number of Channels:
24 Individually programmable digital I/O channels, non-isolated
Input Level:
Logic 0 = 0.8vdc maximum, -0.3vdc minimum
Logic 1 = 2.0vdc minimum, 5.6vdc maximum
Output Level:
Logic 0 = < 1.0vdc (15ma load)
Logic 1 = > 2.5vdc (500ua load)
Output Current,
Per Channel (Max.):
Source: 1.0ma, passively by 4.7k Pull-Up resistor to +5V
Sink: 85ma, actively by open-collector transistor to 0V (GND)
Software:
Uses standard Arduino SPI (ICSP) library functions
Communications:
Serial-Peripheral-Interface (SPI) through Arduino ICSP connector. Requires one user designated Arduino digital output for enable, jumper selectable. EXT input for optional external enable signal.
SPI Configuration: Mode: 0 SCK: 8 MHz maximum
Field Connections:
50 Position IDC Ribbon Cable
Arduino Connections:
Stack-through connectors allows multiple shields
Power: 8 Pos. x 1 Row
Analog: 6 Pos x 1 Row
Digital: 8 Pos x 1 Row, 10 Pos. x 1 Row
ICSP: 3 Pos x 2 Row
Power Requirement:
Supplied by Arduino, +5vdc +/-5% @ 45ma typical, all ports written as 0xff, external loads excluded.
Dimensions:
2.80"W x 2.97"L x 1.04"H overall, Modified Arduino R3 format
Environmental:
Operating Temperature: -40°C to +70°C
Non-Condensing Relative Humidity: 5% to 95%
Compliance:
RoHS
Product Origin:
Designed, Engineered, and Assembled in U.S.A. by SCIDYNE Corporation using domestic and foreign components.
You may also be interested in these products