SNAPTRACK
Mounting Track System for Printed Circuit Boards and Assemblies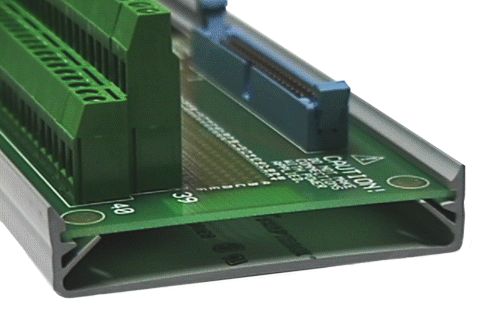 Select the size that matches your PCB width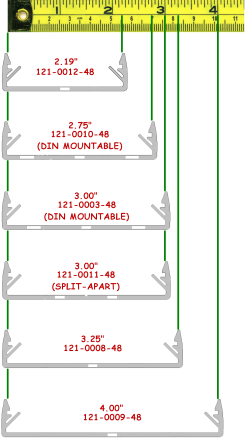 DESCRIPTION
SNAPTRACK is a non-conductive, rigid extruded PVC channel for mounting circuit boards and assemblies. Printed circuit boards snap-in from the front and are held securely by integral ribs that absorb shock when the board is flexed and allows convenient board removal during field servicing. Circuit boards should be between 0.055" - 0.065" thick.
The track easily mounts in panels with rivets, screws or double-faced tape. Styles 121-0003 and 121-0010 may also be mounted on a DIN Rail using optional #121-0004 adapter clip.
SNAPTRACK is available in six standard widths and sold in 48-inch lengths. Full lengths can be quickly cut-to-size using a hack-saw or power saw.
FEATURES
Convenient and secure mounting of circuit boards and assemblies
No tools required to insert or remove boards
Non-conductive PVC material is RoHS compliant
UL94: V-0 flammability rating
Available in many popular standard widths
Cut to desired length using a hack-saw or power saw
The two halves on Stock Number 121-0011-48 are designed to separate and be mounted apart at a distance to accommodate your custom PCB widths.
DOCUMENTATION
SELECTION and PRICING
PCB Width
Special Feature
Stock Number
Quantity Pricing ($ each)
1 - 9
10 - 24
25 - 49
2.19"
Optional DIN Mount clip #121-0019
121-0012-48
26.00
24.96
23.96
2.75"
Optional DIN Mount clip #121-0004
121-0010-48
20.88
20.04
19.24
3.00"
Optional DIN Mount clip #121-0004
121-0003-48
19.40
18.62
17.88
3.25"
Optional DIN Mount clip #121-0019
121-0008-48
19.81
19.02
18.26
4.00"
Optional DIN Mount clip #121-0019
121-0009-48
28.00
26.88
25.80
3.00" min.
Split-Apart
121-0011-48
32.00
30.72
29.49
You may also be interested in these products