PC/104 Peripheral Boards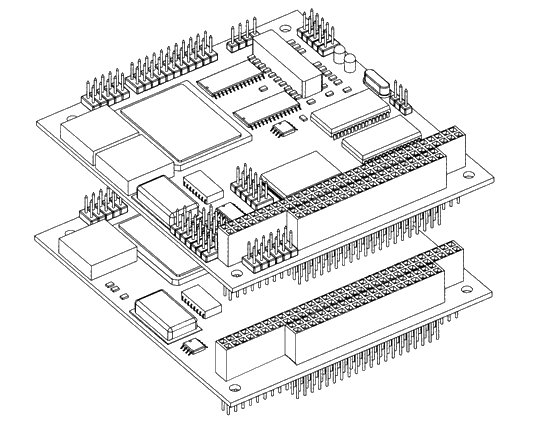 PC/104 is an industry standard which defines a mechanical and electrical specification for rugged small form-factor computer systems. Boards follow a 3.6" x 3.8" size and connect together using a stack-together bus arrangement. Simply mix and match processor and peripheral hardware to meet your requirements. Advantages include accelerated time-to-market, lower development costs, design flexibility, multi-vendor support and the ability to use standard PC software. These important attributes have made PC/104 a long-established choice for demanding applications including Industrial Control, Military, Medical, and Aerospace.
---
GPIO-104
General Purpose Input / Output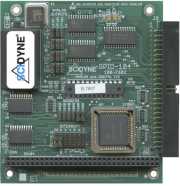 Stock #100-7602
Improved reliability while reducing system cost and complexity is what the GPIO-104 is all about. Many PC/104 embedded systems need both Digital and Analog Input / Output capabilities. This can be done with multiple specific function boards but system cost and size can suffer. Our GPIO-104 combines the most popular peripherals in one board.
Key Features
Eight 12-bit multi-range analog inputs
Four 12-bit multi-range analog outputs
24 digital I/O channels
Single +5V power requirement
---
ADIO-104
All-In-One PC/104 Module
Stock #100-7638
The ADIO-104 builds on the popularity of the GPIO-104 by doubling the number of Analog Input and Outputs channels. The digital I/O is also enhanced by the inclusion of four dedicated MOSFET open-drain outputs, ideal for directly driving 24VDC relays or LEDs.
Key Features
Sixteen 12-bit multi-range analog inputs
Eight 12-bit multi-range analog outputs
24 digital I/O channels
Four open-drain MOSFET digital outputs
One 8-bit pulse accumulator / counter
Single +5V power requirement
---
DIO24-104
24 Channel Digital I/O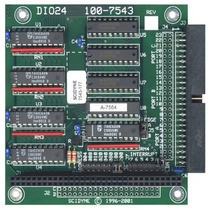 Stock #100-7543
If your PC/104 application needs to connect to Solid-State I/O, LEDs, Relays, Switches or similar external devices the DIO24-104 is a proven solution. Each of the 24 digital channels can be software configured to operate as either an Input or Output. Specially designed output stages provide high sink current capability.
Key Features
Individually programmable channel direction
High output current, 85ma sink per channel
Input Interrupt feature
Compatible with standard Solid-State I/O racks
---
DIO96-104
96-Bit Digital I/O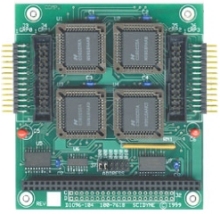 Stock #100-7618
Applications requiring a large number of digital I/O will benefit from our DIO96-104. The board is based around the venerable 82C55A Peripheral Interface chip which provides three 8-bit bi-directional ports (24 digital I/O). The DIO96-104 uses four 82C55A chips for a total of 96 bits of digital I/O. Each chip is routed to its own 26-pin IDC header for easy system integration.
Key Features
Uses industry standard 82C55A chips
Supports Input, Output, and Strobed operations
Low power CMOS deign
---
RELAYIO-104
8 Relay Outputs, 8 Optically Isolated Inputs
Stock #100-7610
The RELAYIO-104 is an 8-bit digital I/O peripheral module offering electrical isolation between the host and externally connected devices. It conforms to the PC/104 standard and operates on a +5V only power. A single 40-pin I/O header is used for all external wiring.
Embedded applications often involve the controlling and sensing of various external AC and DC signals while also requiring electrical isolation for the host computer. External solid state relay racks or similar devices are often considered but can be too bulky in many situations. The RELAYIO-104 allows field signals to be brought to the PC/104 system. It has the flexibility to accept combinations of AC and DC signals and offers 250V host-to-field isolation.
Key Features
Eight SPDT (form-C) Relay Outputs
Eight optically isolated AC/DC digital inputs
Input filters for AC and noisy signals
250V isolation between PC/104 bus and I/O signals
---
IOCP-74
PIC Based I/O Co-Processor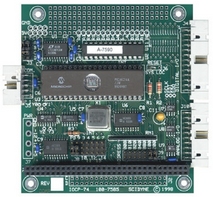 Stock #100-7585
The IOCP-74 is a user configurable I/O processing sub-system for PC/104 bus computers designed to relieve the host from performing rudimentary I/O operations and offers fast front-end response demanded by many real-time systems.
A Microchip PIC microcontroller controls the on-board circuitry and executes user programmed logic functions and algorithms independently from the host. A 40 pin socket accepts several PIC microcontrollers including the popular PIC16F877 and PIC18F4520. Standard features include: Analog I/O, Digital I/O, Counter/Timers, EEPROM, and Serial Communications. Custom hardware can be added by means of the on-board prototyping area.
Key Features
On-Board PIC microcontroller
Operates independently from PC/104 host
Five Analog Inputs
Two analog outputs
One RS-232/RS-485 port
Includes IOCPbios software
---
PROTO8
PC/104 Prototyping Board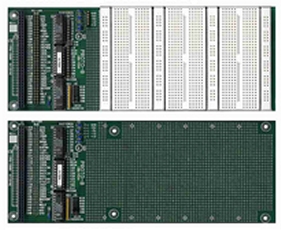 Stock #100-7549
Have you been searching for a particular PC/104 function but can't find the exact hardware anywhere? Build-It-Yourself! The PROTO-8 is a breadboard specifically designed to help create and develop PC/104 circuitry.
The PROTO-8 available with or without a solderless breadboard and the extended length allows ample room for constructing custom circuitry. All PC/104 signals are clearly labeled and easily accessible. Critical signals are buffered.
Key Features
Develop your own PC/104 circuits
Access to all J1/P1 PC/104 bus signals
On-board buffers and decoding logic
Available with or without solderless breadboard
Optional 16-Bit upgrade available
---
ISA10416
16 Bit ISA to PC/104 Bus Adapter
Stock #100-7559
The ISA10416 is a half-size ISA card that allows 8-bit and 16-bit PC/104 modules to be used in a legacy ISA bus computers. In operation, a PC/104 module is installed on the ISA10416 card and the card is then inserted into one 16-bit slot within the PC ISA host.
The ISA10416 transparently performs a direct bus-to-bus conversion and operates at the full speed of the PC ISA host. All the facilities of the host computer are available to the PC/104 module including memory and I/O operations, DMA and interrupts. In addition, a through-hole prototyping area is provided for the construction of experimental and application specific circuitry.
Key Features
Enables ISA bus computers to use PC/104 modules
No drivers needed
Compact half-size card
Supports 8 and 16 bit PC/104 modules
Onboard prototyping area
You may also be interested in these products